About
Labour Humanists brings like-minded people together to influence Labour Party policy on key humanist and secularist issues. We are affiliated to the British Humanist Association (BHA) and we aim to become an affiliated society of the Labour Party.
Our supporters come from across Labour, and include many elected representatives, all of whom share a humanist outlook and a desire to see a more equal society with no religious privilege or discrimination in public life and public services.
Our Aims
We want Labour to take a secularist and rationalist approach as it shapes its policies in opposition and as it makes law and public policies when in government.
We are committed to:
Advocating an inclusive and accommodating education system, and opposing religious discrimination in admissions and employment by state-funded faith schools;
Defending the inclusive, secular nature of our public services, and opposing discrimination in service provision and employment by religious organisations working under contract with the state;
A reformed House of Lords with no reserved seats for Bishops of the Church of England, or for any other religious group;
Fostering a commitment to equality and universal human rights, including the freedom of religion and belief for all people, and an end to religious privilege in law;
Promoting a rational approach to bioethical, medical and scientific issues as the best guarantee of human progress;
Defending and advancing secular government and an open society as the best model of a society where all can be included.
How we work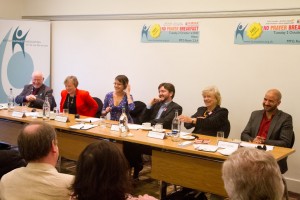 We work in a number of ways to influence Labour Party policy, including:
Briefing and supporting Labour MPs in their work on issues such as  equal same-sex and humanist marriage, and Bishops in the Lords
Growing our online campaigning on issues such as faith schools using Twitter
Providing advice and ways for our members to lobby their elected representatives
Chairing an annual fringe event at Labour's conference and attending other Labour-focused meetings and events
Responding in detail to consultations and policy reviews
Media appearances and commentary
Writing blogs and articles on relevant topical issues, and encouraging our supporters to do the same
The best way we can hope to make the biggest impact, however, is through growing our membership and supporter base. The larger voice we have within Labour the more effective we can be in achieving our aims.
How we are run
Labour Humanists is organised by a small voluntary committee, who consist of:
Joan Smith – Chair
Tom Copley AM – Vice-Chair
Andrew Mullinex – Treasurer
Lee Stacy – Secretary
Samuel Fawcett – Social Media and Website Editor
Support us
For the equivalent of just £1 a month you can join us as a member.
If you want to find out more about what we do and what we stand for – and how you can get involved, sign up to our email list, drop us an email, or follow us on Twitter.